Art Workshop
Broadstone Methodist Church, Lower Blandford Road, Broadstone.
(parking for leaders and disabled only)


Tuesdays: 9:30am to 12:00noon
This session is for like-minded artists who would like to meet other enthusiasts for a couple of hours each week. There is no Instruction on Art, but during the morning we view each others work and from time to time you have constructive ideas, from the more experience members, as to how you could improve your painting. It is a very friendly class and during the morning we have a short social coffee break.
For more details of this session, please contact Margaret Jones on 696554.
Art Workshop
Broadstone Methodist Church, Lower Blandford Road, Broadstone.
(parking for leaders and disabled only)


Wednesdays: 9:30am to 12:30am
These are friendly meetings of like-minded members who are interested in getting together to exchange ideas and techniques of drawing and painting. Various materials can be used such as pencil, watercolours, pastels, acrylics, etc. But no oils, please. The Workshops are designed for class members who already have knowledge of drawing and painting as no tuition is given - just friendly help.
For more details of this session, please contact Chris Hall on 604850.
Painting Workshop
Alexandra House, 88a Alexandra Rd, Parkstone, Poole, BH14 9EW
Please see day and time information on the Class Finder page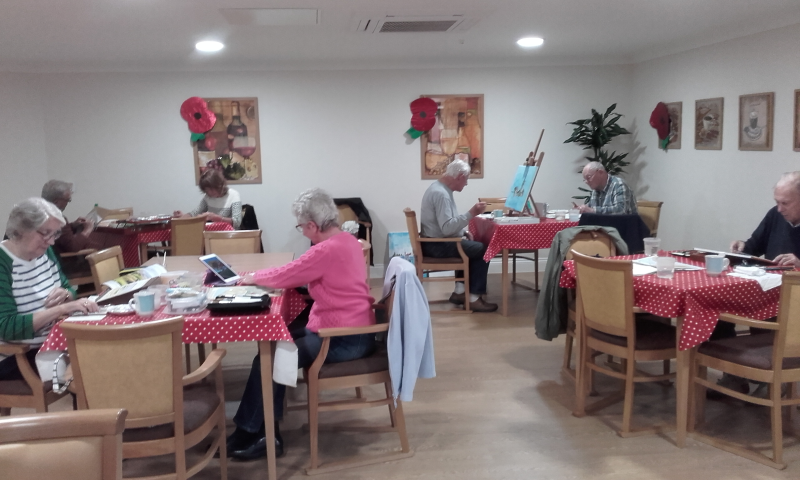 This is Painting Workshop where you can express your own artistic style among other artists. Advantages of working in a group include swapping ideas and techniques and inspiring each other in. The leader will offer guidance and advice but you are free to develop at your own pace. Reference books are provided as back up but artists choose their own preferred methods of painting.
For further information, please contact Julie Farley on 07984 216908.